Equipped with TurnLoader FIFO merchandising shelving system, ColdFront is a cost and energy efficient alternative to Multideck cases, using the same footprint.
Cost and energy efficient Multideck alternative!
Same footprint, more space!

Equipped with doors the ColdFront is highly energy efficient, uncomplicated, and thanks to the use of
the clever TurnLoader FIFO merchandising system, refilling time of products is cut by at least half and
food waste reduced by around 40%.

The use of TurnLoader FIFO shelving makes it a merchandising machine!
TurnLoader is highly suitable for virtualy all chilled goods; Dairy, Yoghurt, meat, juices, beverages etc.

ColdFront is built up with insulated panels that comes flat packed on pallets.

We use industry leading panels, highest quality doors (Schott Thermofrost) and cooling from Daikin
(cooling on request).


Thanks to the fact that it comes flat
packed we had no problems with
getting the ColdFront through the
door as would be the case with a
normal multideck. Thanks to the size
we get an additional shelf in per
section!
German fuel station owner
Click on the images below to open the PDF files:
After opening the document, the reading angle can be changed by hold the right mouse button and slide: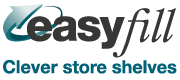 EasyFill AB (publ) Industrigatan 10, 843 31 Bräcke, Sweden // +46 693 66 13 00 // info@easyfill.se
©EasyFill AB (publ) 2023 all rights reserved