Energy drinks gigant use RotoShelf by EasyFill
RedBull, the world famous energy drinks producer, have chosen EasyFill merchandising solution for their products
RedBull use Frigoglass beverage cabinets equipped with RotoShelf and placed in fuel stations, supermarkets and convenience stores.

The RotoShelf is installed in Frigoglass factory and set up with seven shelves instead of five (the standard).
The Universal 90 shelf is used as it has flexible product dividers that can be set up and adjusted depenting of products placed on the shelves.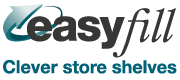 EasyFill AB (publ) Industrigatan 10, 843 31 Bräcke, Sweden // +46 693 66 13 00 // info@easyfill.se
©EasyFill AB (publ) 2023 all rights reserved