Check-out line cabinet cooler developed in close cooperation with Spanish cabinet producer Efficold. ML 705 is tailormade for RotoShelf® 705 FIFO merchandising system.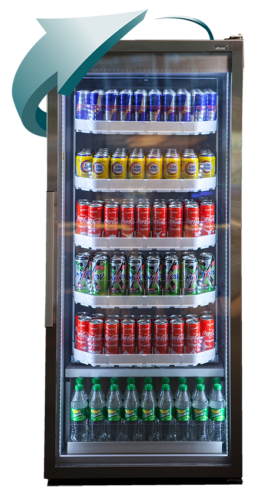 RotoShelf® – Scandinavian innovation
RotoShelf is a patented solution for easy product management and improved efficiency when refilling products.

The solution, applying the First in-First out principle, works through a rotating movement.

The entire interior is rotated so that the back of all shelves are available at the same time for stocking products.
The use of gravity feed shelves makes for automatic product fronting.


Video showing the function of RotoShelf® in Efficold MaxLoad cabinets. MaxLoad cabinet series is available as: ML900 ML700 ML705 ML600 (launches in 2019)
Benefits of Efficold ML 705 with RotoShelf®
● Low height for great store overview
● Six shelves. Five on RotoShelf® + one fixed in the bottom
● Eight extra facings (20% increase)
● Incredible LED lighting
● Capacity: 48 bottles/shelf; 253 pcs 500ml PET bottles/six shelves

● Height: 1672 mm (65,8 inches)
● Width: 736 mm (29 inches)
● Depth: 730 mm (28,7 inches)

Images of ML705 from stores
Rotate the section 180° – Fill from the back – Rotate the section back
Below are some of the technical details of the RotoShelf® for the ML 705 cabinet
The FA frame allows the shelves to freely adjustable in height. Shelves are fixed to the frame with a metal bracket and can be adjusted freely in height to be able to fine-tune for various kinds of bottles and cans. No mechanical parts that can
break. RotoShelf is fixed in the top and bottom.
Injection moulded plastic shelf with build in gliding characteristics
ML 705 uses EasyFill Universal 70 shelf in the RotoShelf unit and one Universal 620 as the angled bottom shelf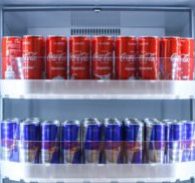 Transparent frontstoppers
54, 113, 143 or 163mm heigh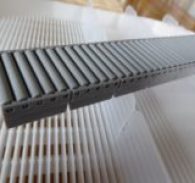 Flexible to use individually for products with high friction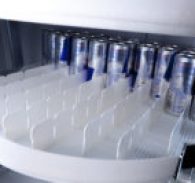 Adjustable product dividers for products of various sizes
These are some of the advantages using RotoShelf® gives

Always First in - First out
Always the coldest drink for the consumer

Reduce energy consumption
Doors open less time reduce the energy consumption
Click on the images below to open the PDF files:
After opening the document, the reading angle can be changed by hold the right mouse button and slide: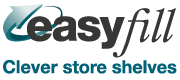 EasyFill AB (publ) Industrigatan 10, 843 31 Bräcke, Sweden // +46 693 66 13 00 // info@easyfill.se
©EasyFill AB (publ) 2023 all rights reserved